I came to Bandon in February, 2014 to look for an apartment after my husband and I decided we would make the move to the coast. I stayed at the Table Rock Hotel for a week and tried to get a sense of what it would be like to live in the town while looking for a place to live. Perusing the Coffee Break one day, I saw an advertisement for live Celtic music at the Arcade Tavern happening the next night, and being a fan of Celtic music and beer, I thought I should check it out.
What I found was the Southcoast Local Session, a group of people who were perfectly normal except for the fact that when they put their violins, violas, flutes, guitars, and drums into action, they made abnormally excellent music. While the Arcades patrons were having a great time listening, it was clear that the musicians were thoroughly enjoying themselves as well. They had obviously played together a lot and quickly fell into a comfortable rhythm playing jigs, reels, marches, polkas, and waltzes.
A month later, we were settled in to our new place, and I returned to the Arcade Tavern and asked about the group, having played the violin and guitar years ago. I was put in touch with one of the members, and a couple weeks later, I was playing in my first jam session with them. Although it had been years since I had played regularly and was more than a little rusty, I was warmly welcomed into the group and hit the ground running with the upbeat and exciting music.
I started asking questions about the group and was directed to Mhaire Merryman, one of the original founders, and Jennifer
Sordyl, the group's de facto organizer for information. The Southcoast Local Session began in 2010 when some friendswho played with a couple other groups up and down the South Coast decided they needed to start a session in a relatively central location, within easy distance of Coos Bay, Myrtle Point, and Port Orford. Their search for a place to play first took them to Lloyds Old Town Tavern, but they eventually began splitting their time between the Arcade and McFarlins, also in Old Town Bandon.
Although many of the original members still play with the group, some have moved on, and others, like me, have joined. The Southcoast Local Session is an open group, meaning anyone who wants to can join. There is no audition necessary; just show up with your instrument and get ready for a good time! The groups sessions happen fairly regularly, typically the first and third Fridays of the monthin the fall and winter, then moving to the second and fourth in the late spring. The jam sessionsare announced on The Southcoast Local Session Facebook page. The group not only plays in bi-monthly jams; they also perform more formally and are available for gigs of many types.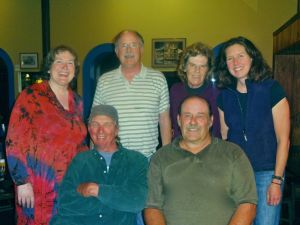 Some may be surprised to learn that the South Coast is a hub of music activity. Several open jam sessions playing various styles of music happen regularly not only in Bandon but in North Bend, Port Orford, and other nearby towns; swing music and dancing can be found in Port Orford; the annual South Coast Celtic Fest with performances, vendors and participatory workshops happens in May; and throughout the year, there are several performances to enjoy.
When I asked Mhaire if she had anticipated the Southcoast Local Sessiongoing on as long as it has, she had this to say:
"I counted on it. Personal instrumental music, its expression and sharing, its preservation and evolution is critical to our cultural health, and to my personal health, as well. Creating a shared venue like this to persist in a community is more important than TV. It feeds our brains, our bodies, our social lives, our spirits; it informs our community, our minds, and even our lives. Maybe even our votes. It stimulates local economy. It cheers on a winter evening, it celebrates on a summer night. It builds skills that beg to be shared, it creates a lively welcome for friends and strangers alike. It invites us to talk to one another, to laugh and even cry together. It requires face to face cooperation. It is "community" at its best. AND IT IS NOT DIGITAL."
I think Mhaire's words say it all.
Whether you are interested in grabbing your instrument and joining the Southcoast Local Session or looking for fun Celtic music on a Friday night, check out their Facebook page to see where and when you can find them. Whether you come to play or come to listen, you'll be joining a musical community integral to the community and to the soul, and besides, you'll bein for a treat!