Tucked into the Floras Creek Valley near the community of Langlois, about 14 miles south of Bandon, is the 90 acre Valley Flora Farm run by Betsy Harrison and her two daughters Abby and Zoe. Valley Flora is a diversified family farm growing a huge variety of more than 100 fruits, vegetables and berries sold to individuals, stores and restaurants in many towns on the South Coast.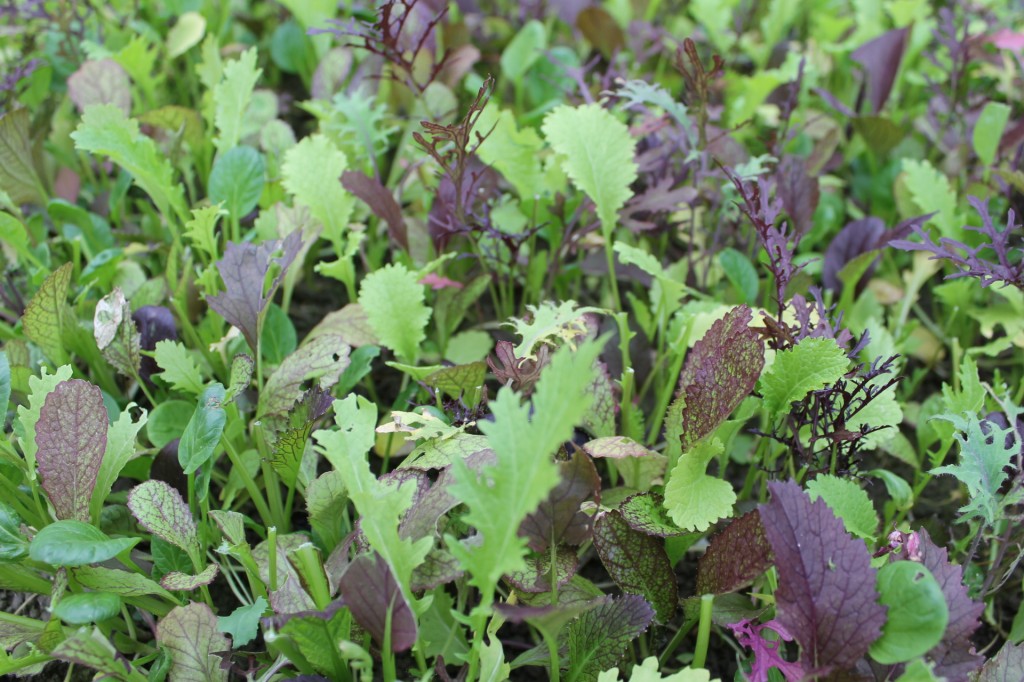 Valley Flora is a collection of three separate businesses run by the three women in the family, affectionately known as The Florettes or The Dirt Divas. Abby and Zoe were
raised on the farm, enjoying a somewhat idyllic childhood. They both left Oregon for college on the east coast, but returned in the summers. Known as the Greens Queen, it was during one of these summers home that Abby planted some greens and started Abbys Greens, a business that still thrives today. She has a loyal customer base including restaurants, stores and individuals in the area.
Betsy had been raising sheep and doing fiber arts on the farm but got involved in the greens business, finishing the season when Abby had to return to college in the fall. She decided to lengthen the season with the help of greenhouses, and then decided to use them for growing hot weather crops. Now the greenhouse expert, Betsy grows tomatoes, basil, peppers and cucumbers. Betsy also has a line of jams and sauces of her own creation, including her famous Cranky Baby hot sauce. She is in process of building a commercial kitchen and focusing more of her energy into creating these jars of goodness.
Zoe left Langlois for the east coast early to finish her high school education and to attend college, but dreamed of returning to further develop and expand the farm. After college, she did a brief stint in Minnesota working with an agricultural non-profit, then headed to California where she helped train farmworkers in organic production practices with the Agriculture and Land-Based Training Association (ALBA) and worked part-time on a farm. She then moved up to Portland, Oregon to work at Sauvie Island Organics, a well-established organic farm and gained important experience there. Zoe also attended graduate school in Portland and met her husband, an acupuncturist, who was excited to be part of her plan to return to Langlois. When they came back in 2008, Zoe joined her mother and sister at Valley Flora and added berries, flowers, asparagus, artichokes and other annual crops tothe mix.
The Florettes are intentional about their farming practices and are dedicated to keeping the farm, thesoil, the produce, and the consumers as healthy as possible. They may have gotten lucky with the rich top soil provided by the river, but they know that they must be careful with it. Although not certified organic, all inputs into the farm and their
practices meet and exceed the requirements for certification. Committed to these organic and ecological practices, they farm without synthetic fertilizers and sprays, choosing instead to use cover crops, compost, and crop rotation. They and their employee Roberto, a critical part of the farms operation, employ mixed power, doing most of their work by hand with occasional help from two tractors - one diesel and one electric - and a draft horse named Maude who goes where the tractors cannot.
Valley Flora is a year-round operation for the Dirt Divas. They have a bit of downtime in the late fall and early winter, but even those weeks will find them planning fields and ordering organic seeds. They begin planting the greenhouses in January.
People in the area can find Valley Floras delicious produce in many restaurants and grocery stores, but many choose to purchase the farms fresh produce directly through Community Supported Agriculture (CSA) shares, at Valley Floras farmstand from April through December, or through the U-pick option.
CSA members get a weekly share of whatever is currently in season and pick up their share in Bandon, Port Orford, Coos Bay or at the farm itself. Valley Flora sells 110 shares per year, and the CSA is so popular that there is currently a waiting list to join! They deliver from Coos Bay to Port Orford but have CSA members as far south as Gold Beach. If they desire, members can add a share of Carnahans Eggs to their farm shares.
Click hereto learn more about the benefits of Community Supported Agriculture.
The farmstand requires no membership. The days and hours vary according to the season, but the quality of produce available neverwavers. In the spring, the selection features artichokes and asparagus and can include greens as well as other things that come into season. The summer is bursting with a huge variety of delicious things that arefar too numerous to list, but include berries,
squash, tomatoes and corn. The farmstand stays open into December with greens, squash, brassicas and more. Shoppers can also often findCandaces Eggsavailable at the farmstand. Regardless of the season, youre well advised to stop by early as they often run out of produce before closing time!
Some wish to get their produce and some time outdoors by taking advantage of the U-pick option and experience a little bit of farming first-hand. Depending on the season, pickers can go to the farm itself and pick their own flowers herbs and the popular berries: strawberries, raspberries, marionberries, loganberries, thornless blackberries, and the lesser-known ollalieberries (similar to loganberries) tayberries (an interesting cross between blackberries and raspberries). Bring your own containers and a hat and take home some of the finest produce around.
The women of Valley Flora are dedicated to the health of the general community as well as their customers. They are part of an informal group of businesses in the Langlois area that all produce food in ethical ways. They promote local businesses such as Carnahan Livestock, Coastal Hills Poultry, Oregon Grass Fed Beef, Seths Sourdough Bread, and Port Orford Sustainable Seafood. They also donate produce to the Food Bank and to Coastal Harvest Gleaners.
For more information on this outstanding farm, its practices, products, current harvest, recipes, and more, visit Valley Flora Farms website,and be sure to stop by the farmstand or the U-pick to experience it firsthand!
The details: Valey Flora Farm
P.O. Box 91, Langlois, OR 97450 Location: 1.5 miles out Floras Creek Rd. in Langlois, on the left. 541-348-2180 valleyflorafarm.com Farm Stand hours: April- May: Thursdays 9-4 June-September: Wednesdays and Saturdays 9-3 October-December: Wednesdays 10-2