Saturday's drizzle did not keep the dedicated from helping clean Bandon's beaches on SOLVE's annual Spring Oregon Beach Cleanup. SOLVE and Washed Ashore volunteers along with an Oregon State Parks employee were stationed at the gazebo at the City Park to register helpers and give them gloves and trash bags for trash and marine debris.
Plastic trash on the world's beaches is a problem that increases with our population and consumption of plastic items. Fish and other marine creatures can mistake bits of plastic for food or get entangled in larger pieces of garbage, both of which can kill them.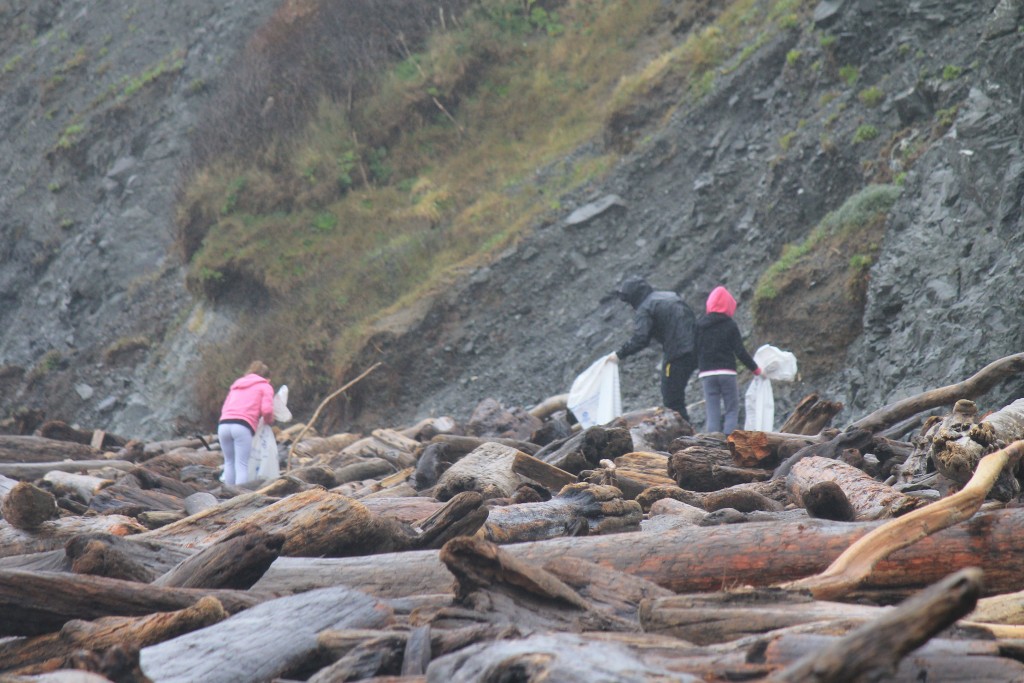 The two annual SOLVE beach cleanups is one way to address this growing problem. Saturday's event took place not only in Bandon but in beach towns from the Columbia River beach at the Washington border to Brookings, almost at the California border.
Washed Ashore participates in Bandon's SOLVE cleanup day to encourage volunteers, to educate people about the problems of plastic trash, and to present them with fun and creative alternatives to plastic products. Mary Johnson and Patrick Chandler who work in outreach and education were at the gazebo to talk to people about Washed Ashore and to demonstrate a simple way to turn an old t-shirt into a shopping bag.
Of course, one need not wait until an official SOLVE event to help keep our ecosystems healthy. Any day is a good day to clean up the beach, and even more importantly, we can all do our parts by not buying plastic items to begin with. The next cleanup day will be September 24. Watch for the event to be announced, then plan to come on down and do what you can to help Oregon's beaches and marine life!
SOLVE is an Oregon-wide non-profit organization that works to keep Oregon green and free from trash. They organize volunteers and facilitate cleanups and restoration projects around the state.