Its summer! The kids are out of school, the sky is blue, and the days are long. Many folks take vacation time in the summer and are drawn to the ocean from 90 degree weather along the I-5 corridor, from the deserts of Arizona and New Mexico, from south in California, and, well, from everywhere else. Others who live here on the south coast will be taking staycationsenjoying time off without travel. So, weve all found ourselves in Bandon. Its a comfortable 70 degrees outside, and theres a whole day, or even a week, spread out ahead. What to do? Take it from one who knows, there are endless ways to happily fill time in this fair coastal town this summerat least 30!
1. WALK ON THE BEACH: The first thing many of us want to do when arriving at a beach town is to head directly to the beach, kick off our shoes, and walk a while. Bandon boasts miles of beautiful beaches, and there are many interesting sights all along the waters edge. Huge rocks called sea stacks dot the beach and rise up from the ocean providing homes for thousands of birds and sunning spots for the resident harbor seals. Sea anenomes and starfish cling to the sides of the rocks and are very photogenic. And, although the beaches are by no means crowded, walking along them always provides excellent opportunities for people watching. Stick around or come back later for the sunset, and your camera will thank you.
A quick tip: It is the humans responsibility to be in control of their dogs at all times. If you have a dog off-leash on the beach, make sure it will come when called. If you see another dog on a leash, it may mean that it does not play well with others, so it is prudent to not allow your dog to approach it.
2. VISIT BULLARDS BEACH STATE PARK AND THE COQUILLE LIGHTHOUSE: Just a few miles north of town, over the bridge, is one Bullards Beach State Park, one of the best state parks in Oregon. There you will find an excellent campground with spots for tents, trailers, and RVs as well as yurts for rent and a horse camp. There are miles of trails to explore as well as a long stretch of beach to enjoy. At the south end of the park, at the end of Bullards Beach Road is the north jetty that forms half of a safe passage from the Coquille River into the ocean. At the end of the jetty is the Coquille Light, an historic lighthouse with an interesting past. The folks who volunteer there are knowledgeable and friendly.
A quick tip: Bullards Beach can be quite windy, especially in the summer!
3. GO TO THE PARK: From Highway 101, turn to the west on SW 11th Avenue and follow it to Bandon City Park. There you will find acres and acres of baseball fields, playground, picnic tables and grills, gazebo, walking paths, a skate park, and a top-notch disc golf course. Plenty of parking, a camp host, and restrooms help ensure your comfort and fun. A stage built in 2015 sees performances during the 4th of July picnic and concerts in the park in the summer. Adjacent to the park are several community buildings: the Senior Center, The Barn Community Center, the Sprague Theater, and the public library.
A quick tip: A paved off-street path follows the road on both sides of the park, perfect for walking or riding a bike without traffic worry!
4. SHOP IN OLD TOWN: Part of Bandons charm is Old Town, several blocks of shops and restaurants between the highway and the river, just north of Highway 101. Even the approach is quaint; turning off of the highway takes visitors under an arch welcoming them to Old Town Bandon. There one can find all the shops necessary to make a trip to a beach town complete. Of course there are the stereotypical souvenir shops with postcards, t-shirts, hats and fudge, but there are also high-quality boutiques, art galleries, a very fun bookstore, the best toy store on the coast, and more to keep a shopper happy. Interspersed among these shops are many spots to stop for coffee, a snack, or a meal when refueling is required.
A quick tip: Give yourself more time than you think you need to poke into Old Towns shops! There is a lot packed in to a relatively small area!
5. EAT IN OLD TOWN: While shopping in Old Town, its a good idea to check out dining options for later in the day or the next morning. Theres something for just about every palate! Restaurant offerings range from pub-style to pizza to Italian, Mexican, diner food, warm bakery bread and pastries, bagels, fine cuisine, seafood, fish and chips, and theres even a vegetarian/vegan restaurant!
A quick tip: Spend some time looking at all of your options before deciding on one place as there are far more choices than youd think!
6. BUY SOME FRESH FISH: Watson's Live Seafoodon the Coquille River at the west end of Old Town is the place for fresh fish in town. They catch much of what they sell themselves and bring their ctch in on the same day, ensuring the freshest choies. The local fish they dont catch themselves is purchased from nearby Charleston or right off the boat in Bandon. Depending on the season, they sell salmon, rockfish, halibut, tuna, and more, and they also import shrimp, that are not available on the Oregon Coast.
A quick tip: Dont wait too long to enjoy your fish! Its most delicious when its fresh, but if you arent going to eat it right away, seal and freeze it to enjoy later.
7. GO TO THE FARMERS MARKET: Every Friday and Saturday through December is Bandons farmers market at the Old Town Marketplace. Available in the spring, summer, and fall is local produce from right here in Bandon or just east where the warmer weather and rich soil make colorful, tasty, and nutritious fruits and vegetables. Also at the market, crafts, baked goods, local meats, and even locally roasted coffee and nuts are available through the entire season.
A quick tip: The market is a great place to find locally crafted souvenirs of your trip to the coast!
8. SEE SOME ART: You may not know it, but Bandons artistic talent runs deep. There are amazing artists of all ages and of every medium who live right here in town, and fortunately for us, there are many places to see it, many more than the three mentioned here! The Second Street Gallery on Second Street in Old Town features many northwest artists and others beyond. There one can enjoy and purchase many genres of art from sculptures to paintings to jewelry. Art by the Sea in its new location on Chicago Street in Old Town is a cooperative gallery of local artists with an eclectic collection. Even the city library has its own gallery in the lobby. The installation changes monthly, but the art (done by local artists) is always beautiful and fascinating.
A quick tip:Start in Old Town, but don't stop there! Check with the Chamber of Commerce about Bandon's art galleries so you don't miss any!
9. CATCH SOME LIVE ENTERTAINMENT: Bandons talent extends beyond the visual art, meaning there are many opportunities to enjoy live entertainment. The Sprague Theatertypically has a full schedule of music, comedy, and theater throughout the summer. The city park occasionally hosts a Community Concert in the Park, an opportunity to spread out a blanket and a picnic lunch and listen to some excellent music.
A quick tip: Most locals get their information about upcoming events from The Coffee Break, a publication that comes out every day except Sunday. It is available free at most businesses and online.
10. GO TO THE 4TH OF JULY CELEBRATION: No summer is complete without attending the 4th of July festivities! The day begins at 10:00 with the annual parade. The best spot for viewing is typically somewhere in Old Town. After the parade, head to the city park for food, music, vendors, face painting, and general fun! Enjoy apple pie and ice cream on the boardwalk from 1-4 and then again from 7-9:30, and dont miss the cardboard boat races at the boat launch starting at 3:00. End your evening with fireworks over the Coquille River starting around 10:00.
A quick tip: One of the best spots to view the fireworks is at the South Jetty!
11. GO TO THE CRANBERRY FESTIVAL: Bandon has a long tradition in cranberry farming, and that is celebrated for 3 days in early September with the Cranberry Festival. The festival is kicked off with a parade and continues with events such as a cranberry eating contest, the Queen of the Kitchen food fair, artisans, good food, dancing, the coronation of the Cranberry Queen, and much, much more. This is the most popular of Bandons festivals for good reason!
A quick tip: See the Chamber of Commerce for a full schedule of activities, and plan your days so you dont miss a thing!
12. PICK SOME BERRIES: Bandons climate is excellent for growing berries, blueberries in particular, and they are ready to be enjoyed sometimes beginning as early as late June. The best spots for U-Pick are just south of Bandon, including Valentine Blueberries on Sydnam Lane. The climate here is ideal for growing huge, sweet berries that are best enjoyed by the handful. Grab a hat and a water bottle, and get picking!
A quick tip: Combine this activity with a nice hike or a picnic at nearby New River!
13. TAKE A HIKE: There are a number of beautiful hiking spots within 30 miles of Bandon, and its easy to find trails to suit anyones needs. Some of the closest trails are found at the world-famous Bandon Dunes golf resort. The hiking is free and open to the public, and its possible to hike anywhere from 1-8 miles on varied terrain through forest, on dunes, past the greens, and with beautiful views of mountains and ocean. The South Slough National Estuarine Reserve on Seven Devils Road between Bandon and Charleston offers 4-5 miles of trals through intensive wetlands and forest. They include boardwalks, a tunnel of trees, and many bird-watching opportunities. Its worth the trip south to Port rford to hike at the Port Orford Heads State Park. An hour and a half on trails there will reward hikers with beautiful trees, native plants, and extensive views to the north and south.
A quick tip: There are far too many options to list here! Take a look at this blog post for more ideas.
14. SPEND A MORNING AT THE BANDON COFFEE CAF: For an excellent cup of coffee, a smoothie, pastry, bagel sandwich, and some great conversation this summer, spend an hour or so at the Bandon Coffee Caf. All the baked goods are made right there, and the folks who work there take pride in their service and what theyre serving. Everyone is welcomed as family the minute they walk in the door!
A quick tip: There is always amazing local art on the walls; take some time to check it out while youre there!
15. SEE THE SUNSET: Bandon is known for its beautiful sunsets year-round, but there's something extra spectacular about the summer sunsets, and the beach can be a busy place at dusk as people gather with their cameras and jackets. Theres nothing like the red, orange, blue, and yellow hues that streak the sky as the sun finally comes to rest in the ocean.
A quick tip: A few clouds can actually enhance the sunset experience, so dont be deterred if the sky isnt completely clear!
16. CATCH SOME CRAB OR FISH: Crab and fish can be caught right off the dock in Old Town! All that is needed is a crab ring, crab trap, or a fishing pole and some bait, and all of that can be found at Port O Call Tackle and Gifts right on the boardwalk. Everything needed for a tasty dinner can be found for less than $15, and the good people there also give good tips and pointers for just how and where to try your luck.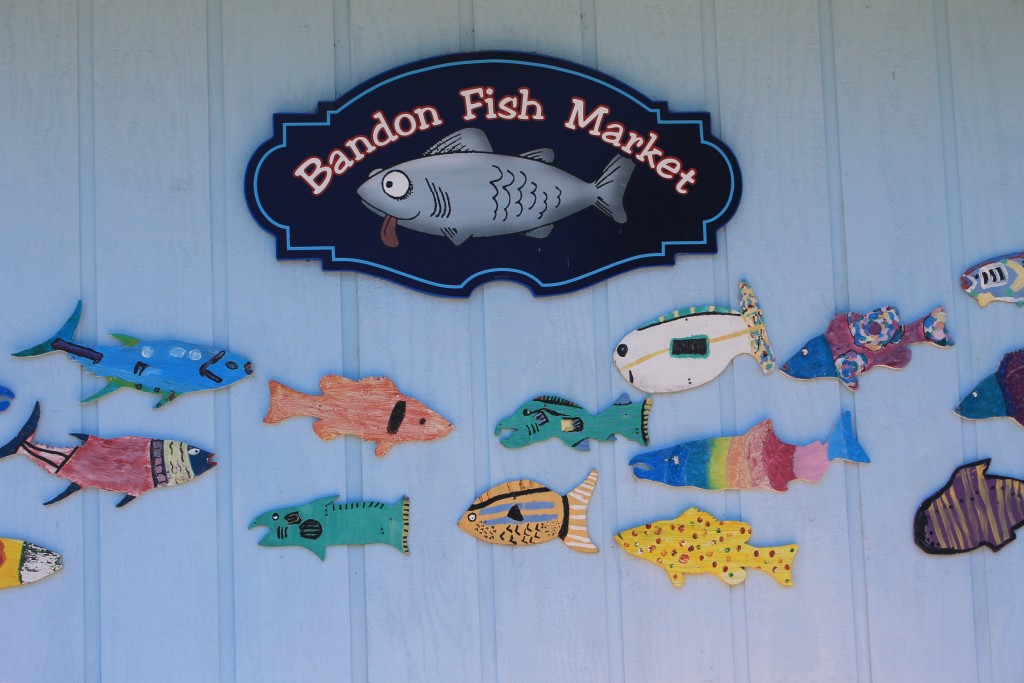 A quick tip: Regardless of your luck, you can have an excellent seafood lunch right there at Tonys Crab Shack or neighboring Bandon Fish Market.
17. CHARTER A FISHING BOAT: For those looking for a deep sea fishing experience, Prowler Charters at the east end of the boardwalk in Old Town will take groups out to catch halibut, salmon, or tuna, and the trips include bait and tackle. They also do river tours, with or without fishing.
A quick tip: For an additional fee, Prowler Charters will also fillet and vacuum pack your catch!
18. EAT SOME CHEESE: Bandons cheese history dates back to 1880, so its no surprise that one of the premier creameries in the west is right here. When the Bandon Cheese Factory was sold to Tillamook and closed in 2002, it left a cheese-shaped hole in the town, but that was happily filled with the opening of Face Rock Creamery, a young yet award-winning center of hand-crafted cheese. Stop by for samples of all kinds of delicious and creative cheeses and curds, and purchase your favorites. The atmosphere is positive, and you may be tempted to stay for lunch, some ice cream, or even a glass of beer or wine!
A quick tip: Its hard to find cheese of this quality, so plan to stock up. Dont resist the ice cream, especially in the summer, but make sure you ask about sizes. The child sized cone is enough (or more than enough) for most grown-ups!
19. MAKE YOUR OWN GLASS ART: For a unique experience in Bandon, visit Sage Place glass fusing studio on 11th SE. There are many beautiful glass pieces for sale, but the true fun comes in the open drop-in studio times. Dont be shy; all the materials you could want are there, and no experience is required. Anne is there to walk you through projects of varying complexity and sizes, and they start at only $5! Its a great way to spend a summer afternoon, and everyone walks away with a unique gift or souvenir.
A quick tip: Really, dont let your lack of experience deter you from trying out some glass art! Anne is very encouraging and helpful.
20. GO SEE THE NEW RIVER: A quick drive south from Bandon will bring outdoor enthusiasts to New River, a BLM area of critical concern. After a major flood over 100 years ago, the river was formed when drainage patters were changed. Now, the area is open for hiking, kayaking, bird watching, and general enjoyment. The Storm Ranch area at the end of Croft Road is probably the best spot for exploring where its possible to spend a couple of hours hiking. There is also a picnic area, a BLM interpretive center, and boat launch.
A quick tip: Storm Ranch has musical significance as well as it was once owned by rockers Ann and Nancy Wilson of the band Heart!
21. SAMPLE SOME CANDY: It would be a shame to miss Cranberry Sweets & More n Old Town Bandon, especially in the midst of a sugar craving. The shop is full of delicious chocolates, candies, and popcorn, and sampling is encouraged. Many of the sweets are influenced by and infused with tastes of the northwest: fruits, berries, and even local beers and wines show up in them. Its impossible to conceptualize it; it must be experienced! The goodies make excellent giftsif they can last long enough to be given away.
A quick tip: The & More is not to be ignored. The shop also sells beautiful cards and non-sugary gifts.
22. RIDE BIKES ON THE BEACH: How is this possible? Doesnt the soft sand make this too difficult? Not with todays bike options! For rent at South Coast Bicycles towards the north end of town are fat tire bikes, perfect for floating on top of the sand. They look a little odd, but they do the trick! This is a great way to see all there is to see of Bandons beaches this summer, even when time or physical limitations make walking difficult.
A quick tip: Bike rentals are available by the hour, by the week, or by the month as well, and mountain and road bikes are also for rent.
23. TAKE A HORSEBACK RIDE ON THE BEACH: Riding horses on the beach seems like almost a dream for some, but that dream can easily become reality in Bandon. Just south of town on Beach Loop Drive and Mars Lane is Bandon Beach Riding Stables where horses stand ready to take your family on 1-2 hour rides on the beach. There are several time slots available each day during the summer, including a sunset ride. Rides are open to all ages and ability levels.
A quick tip: Bring your camera!
24. WALK THE BOARDWALK: The Coquille River makes up one edge of Old Town Bandon, and the boardwalk along it makes it easy to enjoy. A nice stroll will take you past the boat basin, fun sculptures of ocean-inspired animals and characters, entertaining harbor seals and sea birds, and, in the summer months, the Port of Bandon Boardwalk Art Show a showcase of Bandons talented artists of all ages!
A quick tip: For a wind-free lunch with a view on the boardwalk, step inside the glass-enclosed picnic shelter!
25. CHECK OUT ALIVE AFTER 5: On the first Friday evening of each month from 5-7, Bandons Old Town is busy with shoppers and wine drinkers as businesses stay open late and many pour wine samples! Wine glasses are available for purchase to participate in the sampling as well as maps showing which businesses are open and which are pouring. Enjoy this fun and festive atmosphere!
A quick tip: Purchasing the wine glass is well worth it! Not only does it mean lots of wine samples, but the glass makes a great souvenir. Plus, the proceeds from their sales go to fund events like the 4th of July fireworks!
26. WALK A LABYRINTH: Bandon is incredibly lucky to have Denny Dyke, world-famous labyrinth artist, as one of its residents. Denny regularly draws huge intricate and beautiful labyrinths on the beach and invites all to come and walk them. Its fascinating to watch their creation, and walking them can be a peaceful, contemplative experience.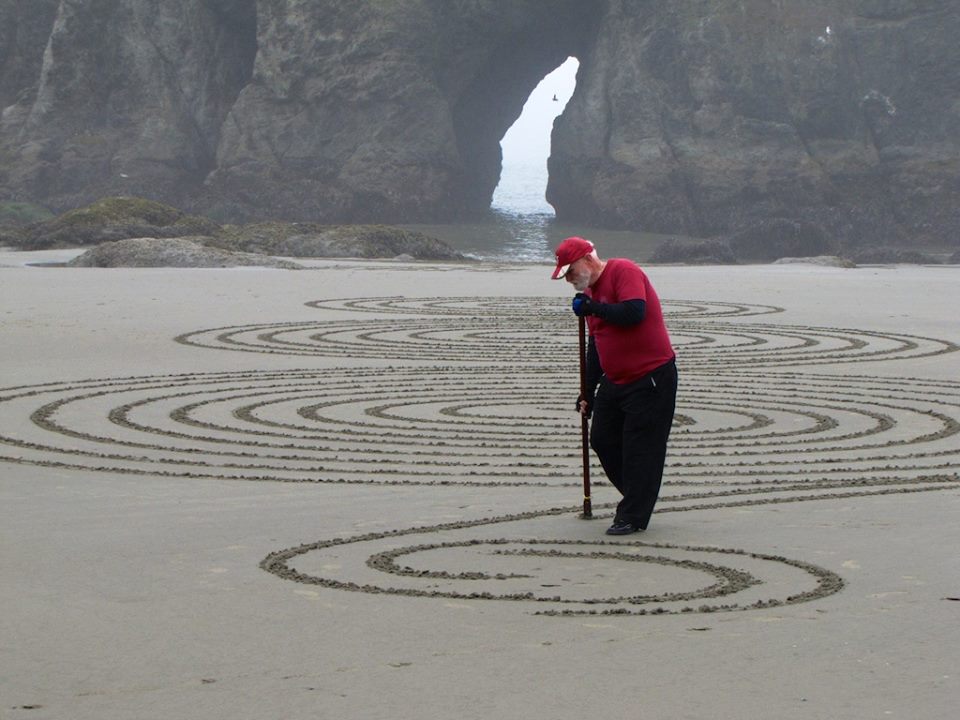 A quick tip: Check out Dennys website http://www.circlesinthesand.us/Calendar.html for a calendar of when and where he will be drawing his labyrinths. He doesn't limit his art to summer; you can find his labyrinths on the beach year round!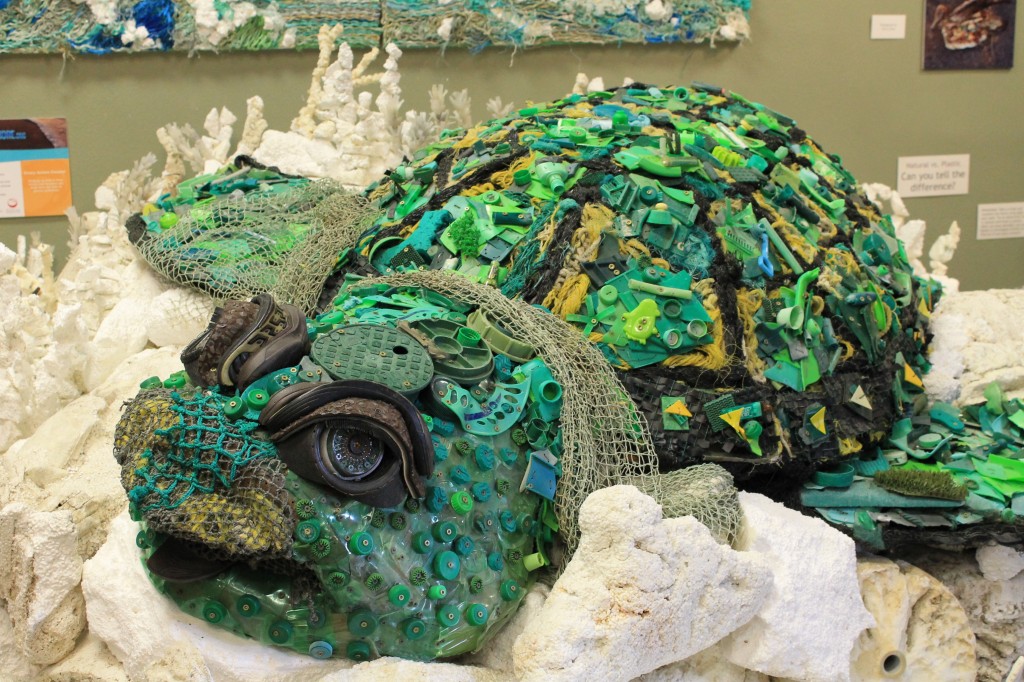 27. LEARN ABOUT WASHED ASHORE: The brainchild of artist Angela Pozzi, Washed Ashore is a non-profit whose purpose is to educate the public about the dangers of trash in the ocean. The education mainly comes in the form of colorful sculptures of sea animals made of plastic garbage found on our beaches. Washed Ashores exhibits travel all around the country to places like Sea World and Washington DCs National Zoo, but it is based right here in Bandon, and many sculptures can be seen at the gallery in Old Town. Visitors can even spend an hour or so helping create new sculptures!
A quick tip: Plan to spend at least 30 minutes here as there is much to see and experience!
28. PLAY A ROUND OF GOLF: Summer is a great time for golf, and one of Bandons claims to fame happens to be its world-class links golf resort, Bandon Dunes. Its compared to some of the best in Scotland, and many golfers describe it as their favorite. There are many courses to choose from, so several days can be spent exploring the resort! Its not the only place to play, though. Just to the south of town is Bandon Crossings, another high-quality course that is a bit more accessible to those on a budget.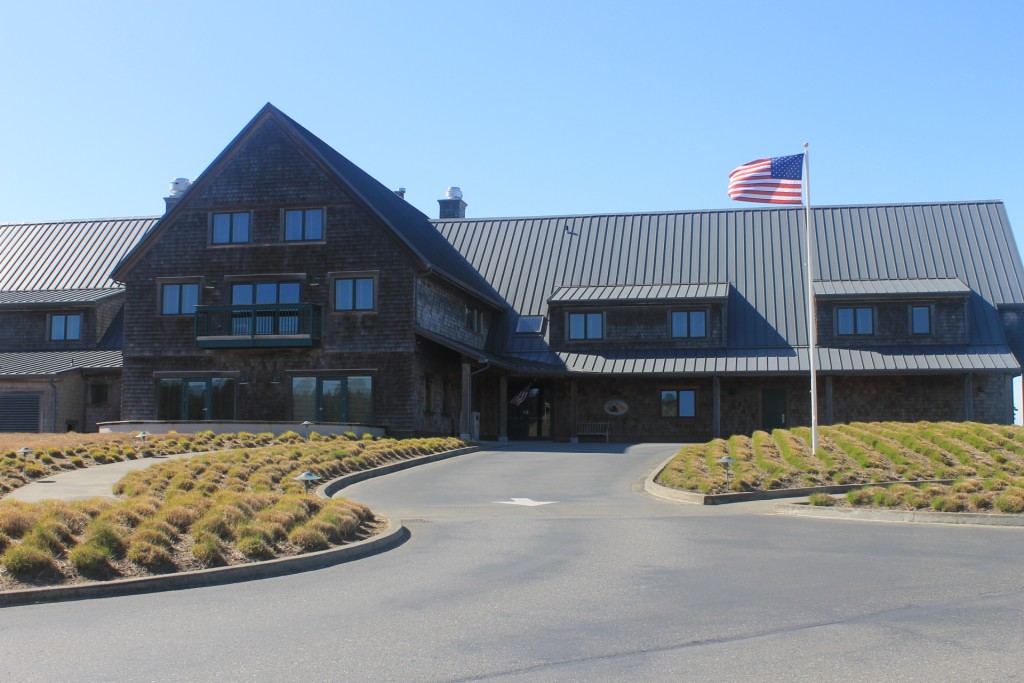 A quick tip: With its great restaurants and varied hiking trails, the whole family can enjoy Bandon Dunes, even those not golfing!
29. VISIT THE HISTORICAL MUSEUM: The Bandon History Museum has been described as The Best Little Museum in Oregon and for good reason! Packed into a relatively small space is everything you could want to know about Bandons history, including the industries of logging, cranberry farming, fishing, and cheesemaking; the devastating fire of 1936; and representations of everyday life over the last century and a half.
A quick tip: Its not a huge museum, but its dense. Plan adequate time to see everything!
30. CHILL OUT AND TAKE IN THE NATURAL BEAUTY: This is quite a list of lots of things to do while in Bandon this summer, but perhaps the most important thing to do is nothing. Bandon is a special beach town: it is beautiful and very friendly, but its not busy and crowded. Take some time during your vacation or staycation to relax, gaze at the ocean, breathe the clean air, and unwind. Its one of the best places on Earth to do just that.