This year's 29th Shore Acres lights display at Shore Acres State Park is an integral part of a Coos County holiday experience and is not to be missed. The experience keeps getting better and better as more lightsand sculptures are added, and more people hear of and enjoy the display. The park was temporarily closed after our recent extreme rainfall, but never fear, it is open again!
This community tradition started in 1987 when 6,000 miniature lights were purchased and strung around the grounds by the Friends of Shore Acres. A Christmas tree was put up, and the Garden house was opened and decorated. 9,000 people came to see the lights at the first Shore Acres lights display. Today, nearly325,000 lights - most of them LED - and dozensof sculptures grace the park, and 40,000-50,000 visitors come to enjoy them.
The many light sculptures are designed with an eye to the plants and animals that are special in our region. Critters from the small frogs and crabs to flying dragonflies and pelicans to an orca and a grey whale swim and play, and many local plants and flowers are highlighted or created with lights.
30decorated holiday trees are placed throughout the park as part of the Shore Acres lights display. Each has been decorated by a different sponsor - a community business or organization.
Besides the lights, the giftshop is open with regional, park, and holiday-related gifts. One of the most popular purchases is something to use right there at the Shore Acres lights display: special paper glasses with holographic lenses that transform Christmas lights into holiday images of snowflakes, elves, reindeer, gingerbread men, and more.
Beautifully dressed with holiday decorations, the Garden House is also open to the public. "Cozy" best describes the atmosphere with its lights, Christmas tree, hot cider and cookies. Enter with caution; you may not want to leave.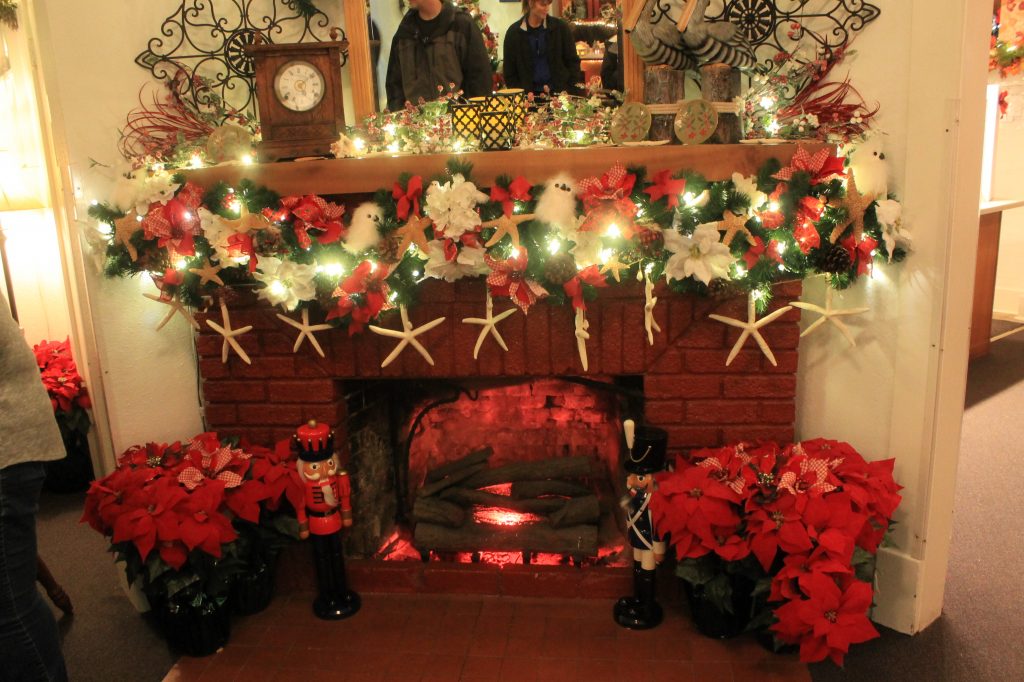 One of the first sculptures to greet visitors at the Shore Acres lights display is a model of Louis J. Simpson's father's flag ship launched in October, 1874 in Coos Bay. The sculpture is a nod to the park's history; Simpson bought the property that is now the park as a Christmas gift for his wife Cassie. He landscaped the grounds and built her a mansion, a Roman bath, formal gardens, and a pond. By 1942, the Simpsons gave and sold the entirety of the land to the state of Oregon.
The Shore Acres lights display will be up and open from 4-9:30 throughNew Year's Eve. The display is free, but there is a $5 fee for parking. Don't miss this beautiful holiday event!