During these oft-grey days of January, color is a welcome change and distraction. Fortunately for Bandons residents and visitors, color is easily found at the newest art show entitled Color: BIG & small at Southern Coos Hospital and Health Center.
For Color: BIG & small, artists created one or two pairs of artwork, one larger than 18 in either direction, and the other 10 inches or fewer in either direction. The pieces are all varied and unique, as are our artists, but they all celebrate color: some bold, some subtle, some exciting, some sobering, but all beautiful and inspiring.
Many artists participated in Color: BIG & small, but there were three featured artists in this exhibit. Michael Ousley strives to look beyond the obvious in his art to the unique self in the subject. His use of bold colors in his portraits draws viewers in, inviting them to look for more. Yvonne Ousley, an artist and anthropologist, has studied cultural art and its place in society, and those studies appear to be reflected in her fiber art. The third featured artist, David Castleberry is an Oregon Coast resident and uses oil to articulate what he needs to communicate and to make sense of the world.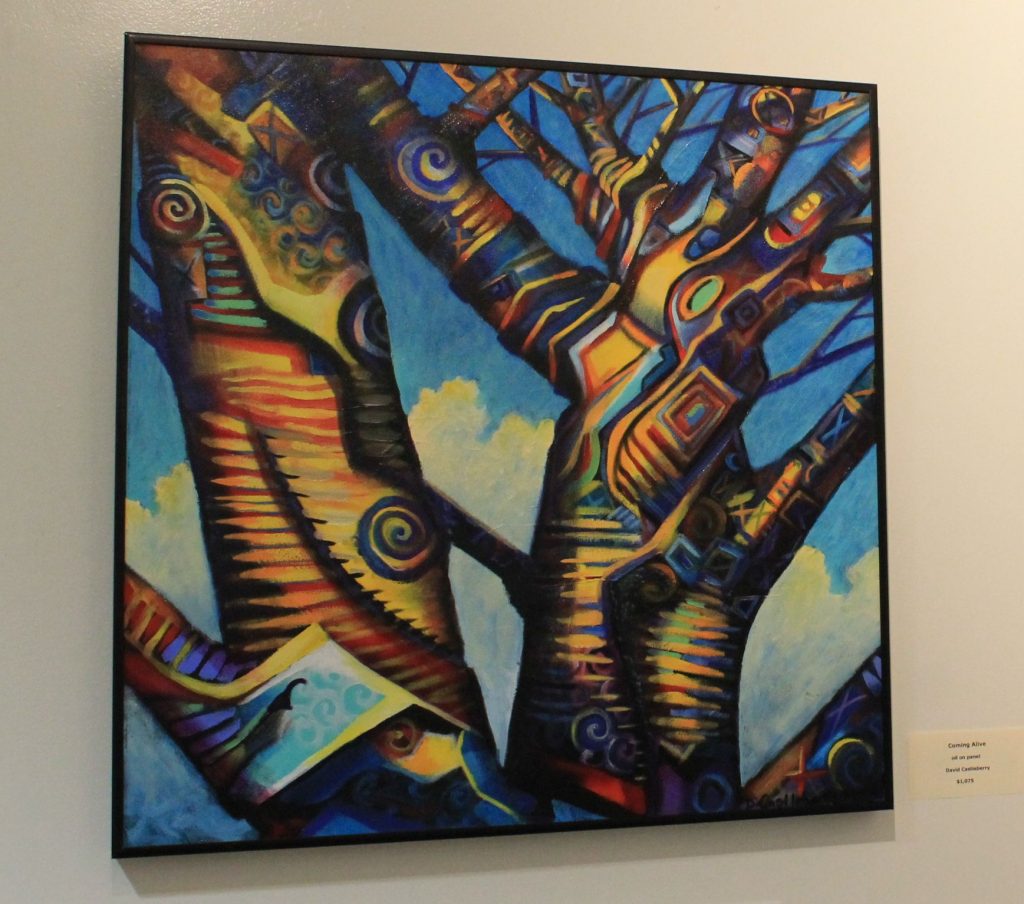 A reception for the Color: BIG & small artists was held Sunday in the Southern Coos Hospital lobby. Several of the artists could be found wandering around and engaging others about their paintings, discussing art in general, and making friendly connections. Refreshments were served by the Southern Coos Hospital Auxiliary, and local musician Candace Kreitlow provided beautiful music on her harp.
Southern Coos Health Foundation, in partnership with the hospital, hosts these quarterly art shows. The shows are part of the extensive art culture here in Bandon, and they have the added benefit of entertaining and uplifting the hospitals patients and staff. The Foundation held its first fundraiser specifically focused on these exhibits in the fall of 2016 to provide funds in addition to the donations it receives to keep the shows going.
Color: BIG & small will be on the hospitals walls for the next few months. Be sure to allow enough time to allow yourself to be immersed in the color and the emotion in the pieces, each of which tells a story.