The winter rain on Oregons South Coast is a bit of a mixed blessing. We love the fact that it means green trees and plants and that it secures our water sources, but it also means many of our outdoor activities become a little less comfortable. Dont despair, though. It may be a rainy day, but that doesnt have to keep us home! There are many great rainy day activities to do here in Bandon.
When its raining, many of us turn to intellectual stimulation, and we are eager to learn something new. The Bandon Historical Museum is just the place. Nicknamed The Best Little Museum in Oregon, the Bandon History Museum is full to the rafters of themed collections telling the many stories of our historically rich town. Visitors will learnabout Bandons important past and present industries such as logging, dairy farming, fishing, cranberry farming, cheese making, and golf. Photos, maps, newspaper articles, a timeline, and personal stories bring to life the horror of the 1936 fire and the hope and hard work that went into the towns rebuilding. Displays also teach about the native people of the South Coast and help identify the flora and fauna of the area. The personal side of life throughout the years is shown through items related to domestic life, medicine, schools, and the Boy Scouts and Girl Scouts. Dont miss the gift shop on your way out. It may look small, but it is full of interesting and fun items of local importance, including historical books, books by local authors, and prints of old photographs. One can also find typical gift items such as postcards, mugs, t-shirts, playing cards, and coasters.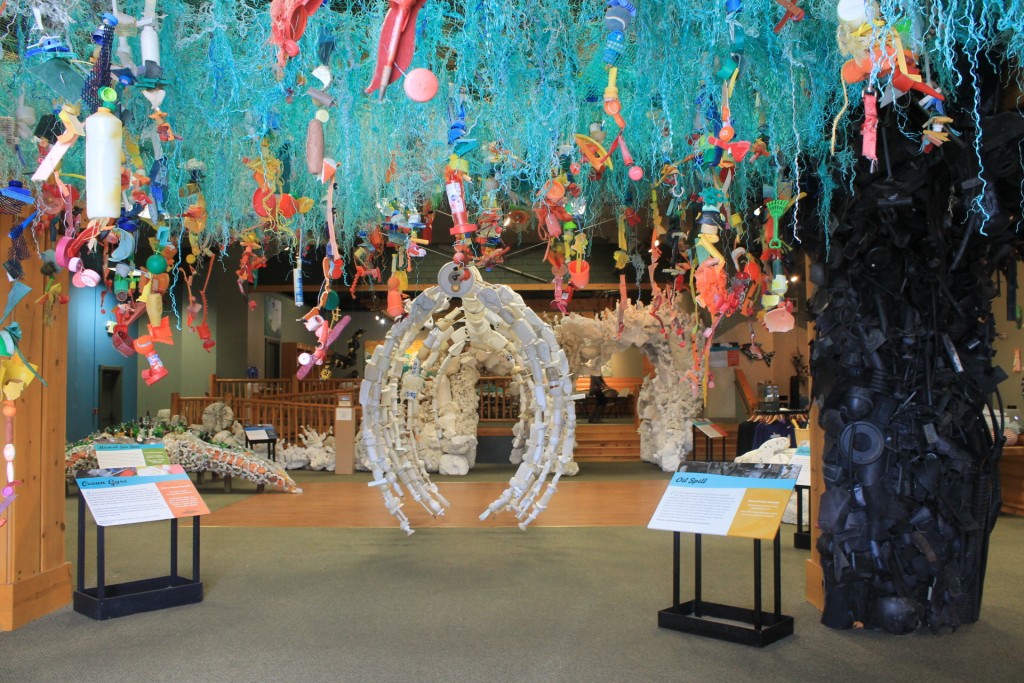 A fantastic family-friendly spot to hit on a rainy day is Washed Ashore. Washed Ashore is a community-based nonprofit that uses art to educate people about the problem of trash in our oceans. Artist Angela Pozzi and hundreds of volunteers make dozens ofhuge sculptures of marine life such as fish, turtles, seals, and coral reefs, as well as other art pieces, using tons of debris from the Southern Oregon Coast. Most of the sculptures regularly travel to locationssuch as SeaWorld, the Smithsonian National Zoo, and the San Francisco Zoo where they are on display to teach visitors about the problems of trash in the sea and what they can do about it. Many of the sculptures are also at Washed Ashores home on 2nd Street in Bandon for interactive learning. Volunteers are always welcome to help prepare bits of plastic for the latest sculpture in the works.
The Bandon Public Library is another great spot to spend a rainy day. The library is fully stocked with fiction books of all genres, non-fiction books covering just about every topic under the sun, books on CDs and tapes, a huge selection of DVD and VHS movies, magazines for everyones interests, music CDs to satisfy anyones musical tastes, and more. The sharp, intelligent, and lovely ladies behind the desk are there to direct patrons to what theyre looking for and make excellent recommendations while keeping the library running smoothly. There are many comfortable spots to sit and look through your selections or do a jigsaw puzzle, and computers are available for internet research or surfing. Be sure to check out the art gallery in the lobby featuring local artists monthly!
A rainy day can feel somewhat lonely, especially around mealtimes, but theres a solution to this problem in Bandon! Bandon residents can count on a community meal at The Barn Community Center every Tuesday night of the year, except for the Tuesday before Christmas and the Tuesday before New Years. Organized by Bandon's non-profit E.A.T. (Everyone at Table), food is donated, and although the dinners are cost-free, donations are always welcome. Dinner menus vary with the kinds of food donated, but they are always free, home-style, and nutritious. A typical main dish might be meatloaf or chicken with side dishes of potatoes, vegetables, and more. In addition to these weekly dinners, E.A.T. also hosts Thanksgiving and Christmas dinners with traditional menus.
One of this writers favorite rainy day activities is to spend a hour or so at the Bandon Coffee Caf. Owners Steve and Margaret Pounder have created a cozy spot where their friendly staff serves delicious bakery items and soup made right there daily as well as locally roasted Ray-Jen coffee drinks. The coffee shop also doubles as an art gallery. On any given day, one can find photographs, drawings, paintings, and wood art hanging on the walls, all done by local artists. Its not uncommon to see several familiar faces in line or at one of the many tables, so plan on spending some time saying hello.
Second Street Gallery on 2nd Street in Old Town is a great place to get out of the rain and outside of yourself. A huge variety of artists, many of whom are local, are represented with their art ranging from clocks to candles to paintings to sculptures. Its easy to get lost in the beauty and creativity displayed, and its difficult to walk out without something that has spoken to you to add to your home or the home of someone important to you.
Just because its raining doesnt mean that indoors is your only option. We Oregonians are hearty and can brave the elements for a while with a good parka. Spend some time popping in and out of the many shops in Old Town to see whats new and interesting. While shopping around, stop in to one of the many restaurants like Foleys Irish Pub, Pacific Blues, or Alloros Wine Bar & Restaurant for a drink or a meal.
Rainy days are perfect for visiting the Face Rock Creamery for some award-winning cheese, wine, and all kinds of creamery gifts. It may not be intuitive on a rainy day, but it's always a good day for ice cream! The Creamery has a wide selection of Umpqua ice cream; just be warned...even the child sized cone is huge!
During the holiday season, pay attention to the colorful light displays on the shops in Old Town and along the river. Note the marine theme!
Dont forget, we live at the beach, and the ocean has a special kind of beauty in the winter months. The water turns a steely grey color, and its sometimes difficult to distinguish sea from sky. The marine life doesnt hide from the rain, and its common to see harbor seals popping their heads out to take a look around as well as the typical seagulls, oyster catchers, and cormorants riding the waves. Often the beach is deserted on a rainy day, and you will find that it is all yours. Storms can be thrilling to watch from somewhere safe and ideally dry.
After a brisk walk on the beach, head home and warm up by the fire with a mug of something hot to drink and the movie or book you checked out from the library, and be glad you got out of the house for the rainy day!