Lori Osborne of the Farm and Sea Market
Driving slowly past Bandon's charming harbor and Old Town restaurants and shops, I can make out the tall green industrial building on the Coquille River up ahead. For decades it was a successful processing plant for locally caught seafood. Today it is the home of Lori Osborne's Farm & Sea Specialty Market.
From behind the counter, Lori greets me with a look of surprise. It's a violently stormy Spring day on the Oregon coast and she didn't expect me to venture out. While she turns over charge of the market to a helper, I began a conversation with a man who arrived at the same time. It turns out he's Lori's father, Cliff, who drove over from Coquille for a quick hello.
Farm and Sea Market Exterior
The refrigerated cases in front of me are brimming with fresh fish, crab, oysters, steamer clams, as well as frozen lobster tails and Alaskan King Crab. There's also high quality prime grade steaks, local lamb, organic chicken, game hen and duck.
Farm and Sea Market Counter
But this is more than just fresh seafood and meat. Lori and her husband Barry designed and built the farm-house style interior, with plenty of counters and shelves to be filled with interesting merchandise. There's an ample stock of excellent wines from Oregon vineyards (including, yes, Pinot Noir), dozens of loaves of different kinds of freshly baked breads and pizza crust from Empire Bakery, local honey, and all kinds of specialty canned goods, sauces, jams, spices, rubs, and more. There is something interesting to examine in every nook and cranny.
View of the Coquille River from inside the Market
We sit down. Lori has a bright, welcoming smile and a confident, engaging presence. I feel instantly relaxed and welcomed by her and so our conversation begins. She tells me she was born and raised in Bandon and has never lived elsewhere in her 47 years. The building has much history and is actually where Lori's mother-in-law had a fish market from 1969-1971. They have come full circle, so to speak! Her love of Bandon and the surrounding region runs deep. She describes the town as the "most beautiful place in the world to live. It is truly magical." The window of the fish market overlooks the Coquille River with a glimpse of the lighthouse on the opposite shore. Lori explains that she feels connected to the many rivers along the coastline."I love the beauty of being near water: the Sixes, the Elk … I have a home on Floras Creek, and grew up camping on the Rogue." When she needs an ocean fix in the midst of a busy day, her "go-to drive is to the jetty to just enjoy sitting in the car or walking the beach."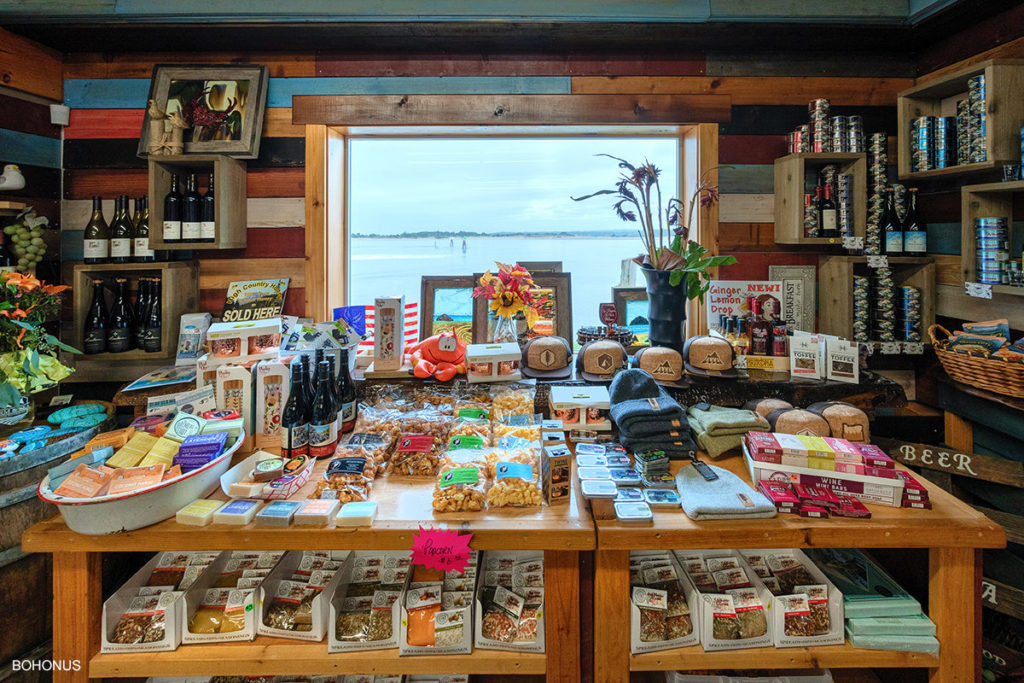 View of the adjacent Coquille River
Lori is an integral part of the community. She sits on several boards of directors of local organizations, donates time and goods to actively helps raise funds for Bandon schools and other causes, runs three family businesses (she and her husband Barry also own The Beverage Barn and Sunrise Cleaning), and daily spends time with and cares for her granddaughter, Addy. "We are grandparents, and we love it!" Addy also contributes to the Farm & Sea Market by taste testing the award-winning chowder and most recently, helping her father, a crab fisherman, offload his 75,000 pound catch, which the family aptly calls, "Addy's Catch."
The market also offers fresh cooked meals on the weekends – often including fresh Dungeness crab! In 2019 Lori came up with the idea of a Bandon Crab Fest to celebrate the local industry and support the community. 2020's event was a two day gala on February 22 and 23 buzzing with musicians, speakers, great food & drink and of course the community. The fundraiser, sponsored in part by Coastal Sotheby's International Realty and Bandon Dunes, will help create a youth vocational scholarship.
Lori is a very busy woman who loves her work. "If you're doing something and you're not happy you need to figure it out 'cuz, you know, life is short." She mentions her late mother just briefly – that she is the source of Lori's work ethic: her head-down, "just get it done" way of approaching her businesses and life. She then describes the sensation of "being in a washing machine" at times, feeling pulled in multiple directions at once. She confesses with a wink that when she has it, she loves her couch time.
Lori and I begin to wrap up our conversation, I do a little Farm & Sea shopping, we continue to chat about her family and she shows me a cute video of Addy on the crab boat. Outside the wind has picked up and it is beginning to sleet, so we say our goodbyes. I take my fresh sourdough bread, local honey, and tuna that was caught just north of us. Reflecting on our time together, I felt good. I'd made a new friend. Lori is open and giving and fun to be with. I hope to see her again soon, maybe next time over a glass of Oregon Pinot Noir.
– Written By Shannon Christopher
Farm & Sea
250 First Street, Bandon